Commercial Artificial Grass in Dallas, TX
At SYNLawn Texas, our team of artificial turf professionals works with businesses here in Dallas, TX to supply and install commercial artificial grass. With our assortment of synthetic turf products, we can transform your coming or existing surfaces into lush, green lawns and landscapes. Best of all, our commercial artificial turf is highly durable and low-maintenance, making it a long-lasting and cost-effective addition to your property.
Improving Surfaces for Your Business
Businesses across Dallas and other Texas communities rely on grass surfaces not only for their curb appeal but for their comfort. However, commercial properties like retail stores, restaurants, office buildings, pet-centric businesses, and more in Dallas, TX can benefit further from our American-made synthetic turf products. Unlike traditional grass, our commercial artificial turf is remarkably realistic. As a result, it looks and feels just like conventional grass surfaces. This helps ensure its visual and physical appeal.
Yet, having an inviting feel and appearance is not all our commercial synthetic turf has to offer! It is also low-maintenance. In doing so, business owners in Dallas, Texas no longer need to worry about common groundskeeping activities for traditional grass like watering, mowing, fertilizing, and so on. They also do not need to worry about hiring a team to perform these duties. Instead, they can focus on running their business.
Lastly, our commercial artificial grass is highly durable. As such, it resists several types of wear and tear. Some examples include high amounts of foot traffic, lawn games and activities, and the local weather here in Dallas, TX. From this, our synthetic turf for commercial properties lasts for years, providing consistently beautiful lawns, landscapes, and more for you, your employees, clients, and customers.
Our Assortment of Specialized Commercial Artificial Grass Products  
At SYNLawn Texas, we offer several different types of commercial artificial grass. In doing so, our team can help address various surfacing needs and requirements for businesses throughout Dallas and Fort Worth, TX. Some of our assortment of commercial synthetic turf products includes the following:
Adding or switching to an artificial lawn or landscape can be an effective investment for your business. Our commercial synthetic lawns and landscapes create undeniable curb appeal for your retail storefront, restaurant, office building, or other type of business. They also help reduce groundskeeping expenses. Overall, this makes our commercial artificial turf a positive investment for your visual appeal and saving money.
For pet businesses, such as dog boarding, daycare, grooming, and so on, it is critical to have pet-friendly surfaces. Fortunately, in Dallas, TX, dog & pet businesses can utilize our commercial synthetic turf for pets. This specialized artificial grass product provides a soft yet durable surface for dogs and other household pets to run around and relax on. Best of all for businesses, it is quick-draining, which makes it easy to clean and keep clean!
Commercial properties across Dallas, Texas have playgrounds for children to enjoy. Thankfully, Dallas businesses can make their playgrounds safer by using our artificial playground grass. Unlike conventional grass, sand, and wood chips, our synthetic playground surfacing provides extra cushioning to help prevent surface-related injuries. It is also highly durable and incredibly beautiful.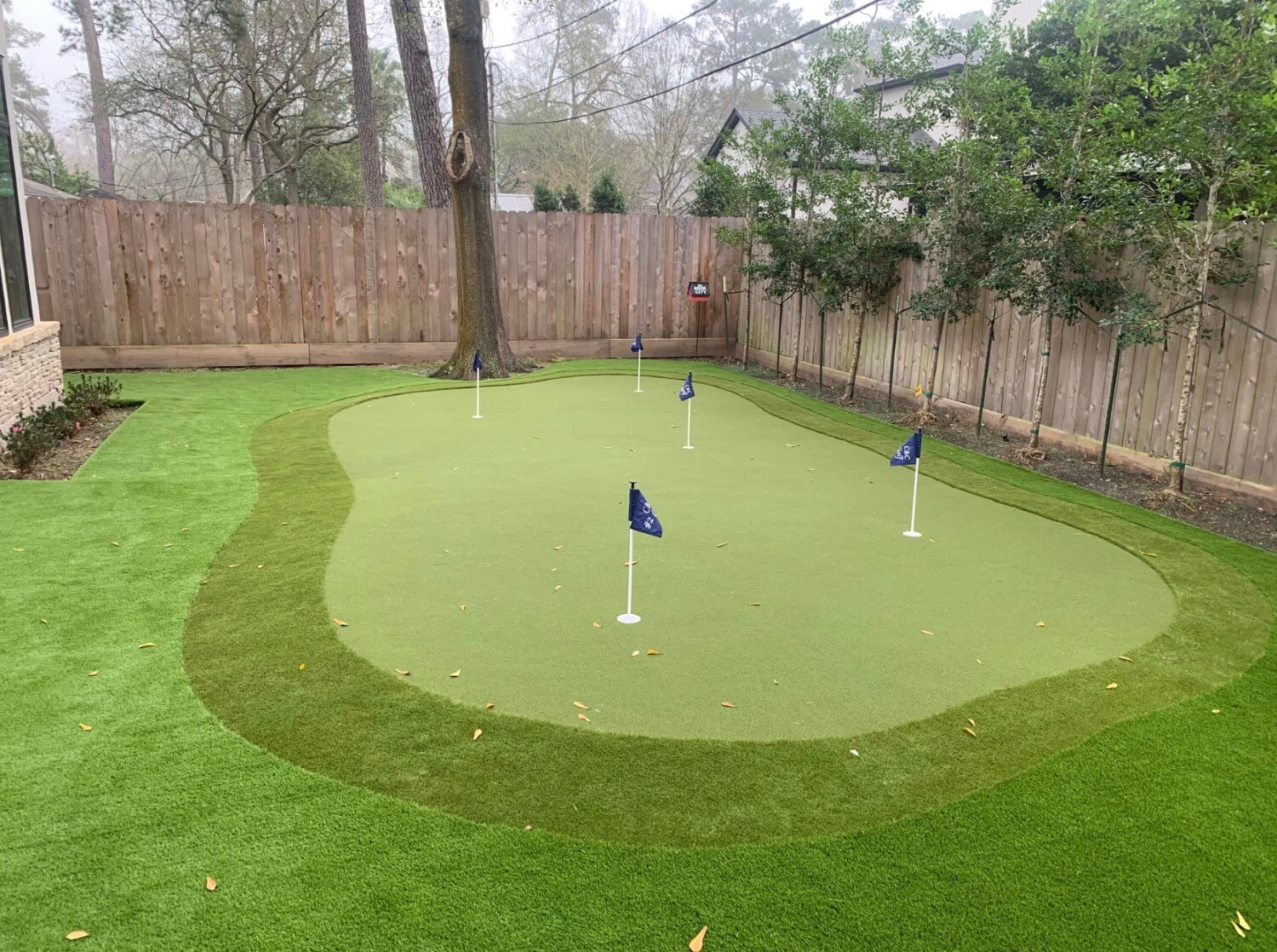 Golf is one of the most popular games in the U.S. To capitalize on this, businesses can add putting greens to their property for guests to enjoy. At SYNLawn Texas, we not only offer first-rate artificial golf grass, but our team also designs and installs synthetic putting greens for commercial businesses. Unlike traditional putting greens, ours are consistently gorgeous and ready for play. They also require little upkeep, making them a fun and cost-effective option to add to your Dallas, TX property.
Contact Us Today for More Information!
At SYNLawn Texas, our commercial artificial grass products and artificial turf installation services can help businesses in Dallas, Texas improve their surfaces. Our beneficial synthetic turf for commercial properties provides consistent beauty, durability, and little to no maintenance, making it entirely cost-effective. Contact us today to receive a free commercial artificial turf quote!
Please fill out all mandatory fields with an astrerisk *
Your information will be held confidential with our company.