If you're looking for commercial artificial grass lawns in Dallas, TX you'll be glad to know that Texas Artificial Lawns has a proven track record of quality and dependability. As a business ourselves, we understand that your time is precious. Businesses are always looking for ways to save time, become more efficient and cut costs. One of the best ways to do this is to install an artificial lawn. With an artificial lawn, your business will enjoy the benefits of evergreen grass that never changes or withers regardless of the weather. Its realistic appearance coupled with its low maintenance makes it the ideal solution for any Dallas business. Here is a rundown of the benefits you would expect to reap with commercial artificial grass in Dallas
Benefits of Commercial Grass in Commercial Setups
Cost-Effectiveness
The cost of maintaining your artificial grass is nowhere near that of natural grass. Natural grass needs constant manicuring, watering, weed management, fertilizers, and other chemicals to maintain its lush appearance. For businesses, the annual costs can be astronomical. With artificial grass, on the other hand, there is no need for chemicals, lawn mowing, or any chemicals. This translates into massive savings for Dallas businesses.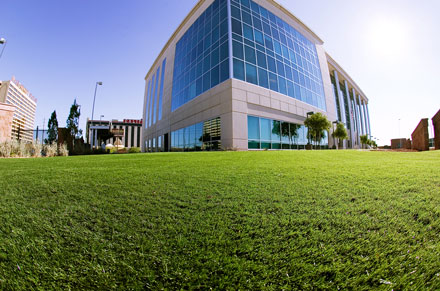 Ever-green
Natural grass is adversely affected by weather events. Too much heat causes the grass to lose its green texture. Pests can also wreak havoc on the overall health of the blades. The same goes for snow and extreme cold. Artificial grass on the other hand is made to withstand even the most adverse weather effects. Whether it's the triple-digit heat common in Texas summers or the crippling cold from North Texas blizzards, artificial turf holds its own and continues to provide the same high-quality consistency all year long.
Uses of Artificial Grass in Commercial settings
Depending on the nature of your business, artificial grass may come in very handy and help bring significant transformations.
Swimming Pool Surroundings
The bare concrete around most swimming pools can get particularly hot during summers and can even be uncomfortable to walk on. Synthetic grass easily addresses this problem. In addition to making pool edges more comfortable to walk and lie on, synthetic turf also adds a layer of safety that prevents injuries resulting from accidental slips.
Indoor gym
If you are a gym owner and wonder what the best way to spruce up your gym is, you might want to consider installing artificial grass in your gym. Artificial grass will bring aesthetic value to your gym and make the floor much more comfortable to work on. With such a floor, your customers might not even require workout mats.
Events and Exhibitions
To succeed in the events industry, you need to be creative in your ideas and innovations. One of the things you can do to get ahead of your game is to use artificial grass in a thematic event. Synthetic grass can help you create the illusion of an outdoor, even in an indoor setup.
Start With a Free Consultation
Like all new ventures, installing artificial lawns can be scary. Fortunately, you have us at Texas Artificial Lawns to guide you through the essential steps. We assure you a professional job that you will be proud of. For any questions and clarifications, do not hesitate to reach us. Our trained technicians are always at your service and will give you a free quote if you want.
Commercial Lawn Applications