Dallas, TX Residential Artificial Grass
At SYNLawn Texas, our team provides various types of residential artificial grass to homes in Dallas, TX. With it, homeowners can experience gorgeously green grass lawns and yards that never look less than their best. Plus, with our synthetic surfacing products, you also never need to worry about mowing or watering, which can help save you time and money in upkeep! So find out more about our assortment of residential artificial turf products today!
Why Choose SYNLawn Texas for Artificial Turf Installation in Dallas, TX?
For homeowners in Dallas and Fort Worth, Texas, there is no shortage of options when it comes to artificial grass supply and installation. But for industry-leading synthetic turf products and expertise in installation, our team here at SYNLawn Texas is the clear choice! Our SYNLawn artificial turf products are made in the United States from top-quality materials. They are also specially engineered to fit different applications, making them ideal for all types of Texas homes.
At SYNLawn Texas, we do not just supply residential artificial turf. Our team also installs our many high-quality products throughout the Dallas area and its surrounding communities. As such, we provide comprehensive artificial grass services for homes, businesses, and more.
Benefits of Our Synthetic Grass for Residences  
Switching to synthetic grass lawns and landscapes can provide homeowners in Dallas, TX with several compelling benefits, including:
Consistently lush, green grass surfaces
Little to no maintenance
No trimming or mowing
Helps conserve water
Enhanced durability
Resistant to wear and tear
Weather-resistant
Does not produce grass allergens
Unlike traditional grass surfaces, our residential artificial grass always looks its best while helping save you time, money, and even resources like water. So make the switch today for cost-effective lawns, landscapes, and more!
Our Assortment of Residential Artificial Grass Products
At SYNLawn Texas, our assortment of artificial turf products for homes in Dallas, TX includes multiple specialized options, including the following: 
Lawns & Landscapes
Whether for a front yard or a backyard, our synthetic grass for residential lawns and landscapes brings a perfect surface for family fun and entertaining to your home. With it, you can play lawn games, picnic, and more any time of year. Plus, you hardly ever need to worry about maintaining it, making it a beautiful, easy-to-care-for addition to your residence!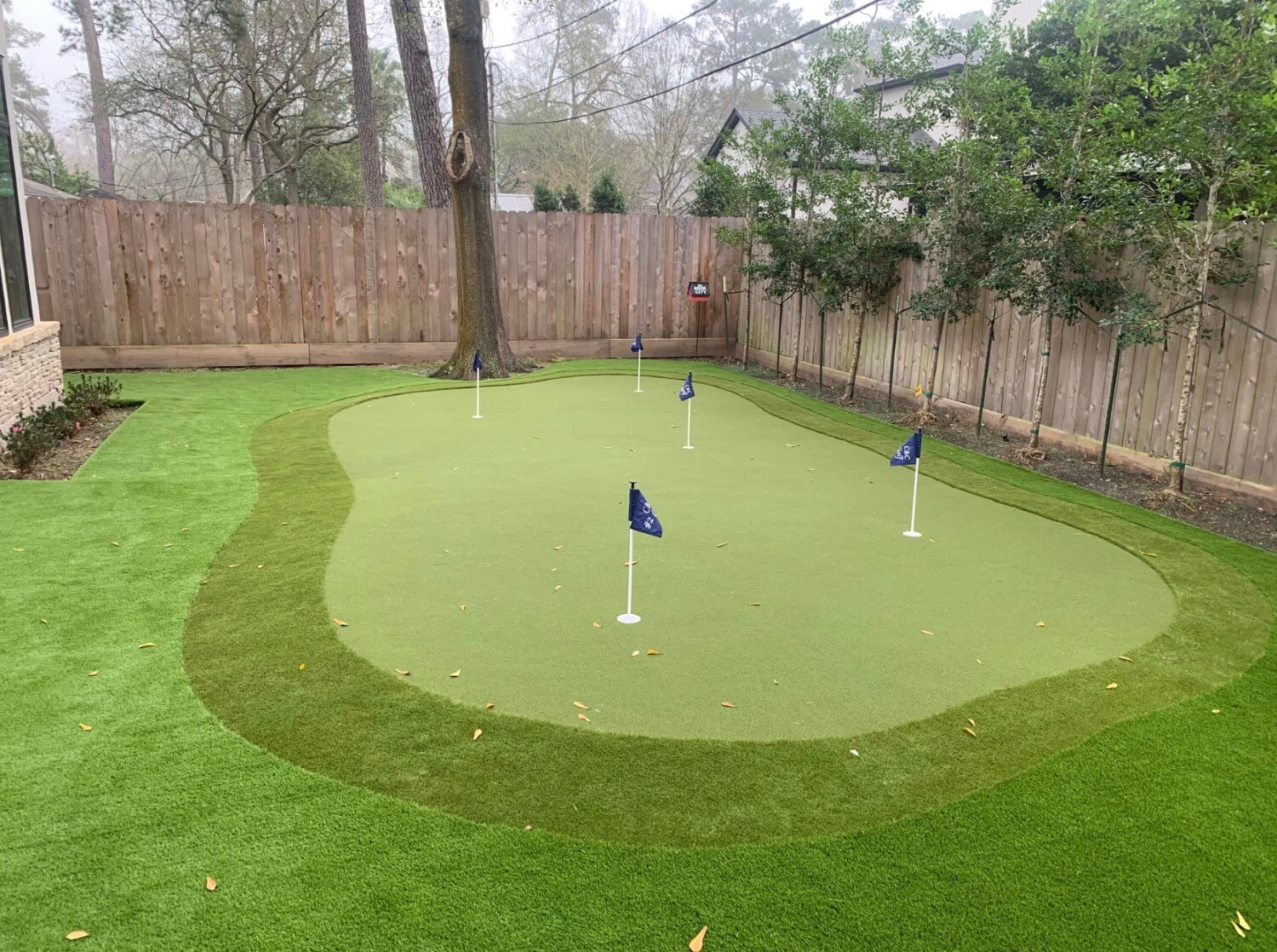 Putting Greens
For golfers in Dallas, TX, our team of professionals can supply and install an artificial backyard putting green on your residential property. Our synthetic golf greens perfectly emulate the playability of traditional golf grass. Best of all, they do not require anywhere near as much maintenance, so you can spend your free time focusing on improving your short game!
Pet Turf in Dallas, TX
Dogs and other household pets typically enjoy spending time outside. For some, it can be an everyday activity. Yet, without pet-friendly surfacing, it can be hard as an owner to let them spend as much time outside as they like. Thankfully, our artificial pet turf can help with that! This specialized grass is soft, durable, and easy to clean, making it ideal for pets and their owners to enjoy all year round.
Playground Surfacing
For families in Dallas, TX, installing a playground in your backyard can be a fun addition for your children. To help keep a playground safer, it can be beneficial to utilize our artificial playground turf. This durable turf features an extra layer of padding, which helps reduce the risk of surface-related injuries. And like our many other synthetic turf products, our playground grass is also durable and visually appealing!
Get a Quote for Residential Artificial Grass Today! 
At SYNLawn Texas, we offer an assortment of residential artificial grass solutions to help improve yards, lawns, and landscapes for homes in Dallas, TX. Our synthetic surfaces are consistently attractive, low-maintenance, and incredibly resilient. For more information or to receive a free quote, contact our team today!
Please fill out all mandatory fields with an astrerisk *
Your information will be held confidential with our company.