Artificial Grass Installation in The Colony, TX
Homeowners and businesses in The Colony, TX are replacing their natural grass lawns with our ultra-realistic and low maintenance artificial lawns and putting greens. Homeowners prefer SYNLawn Dallas artificial grass because it provides a tougher, more secure, and sanitary environment for recreation, children play areas, and pet-friendly lawn spaces. Thanks to our close partnership with U.S. farmers, we are able to make our plant based synthetic grass using locally sourced materials such as sugar cane and soybean oil.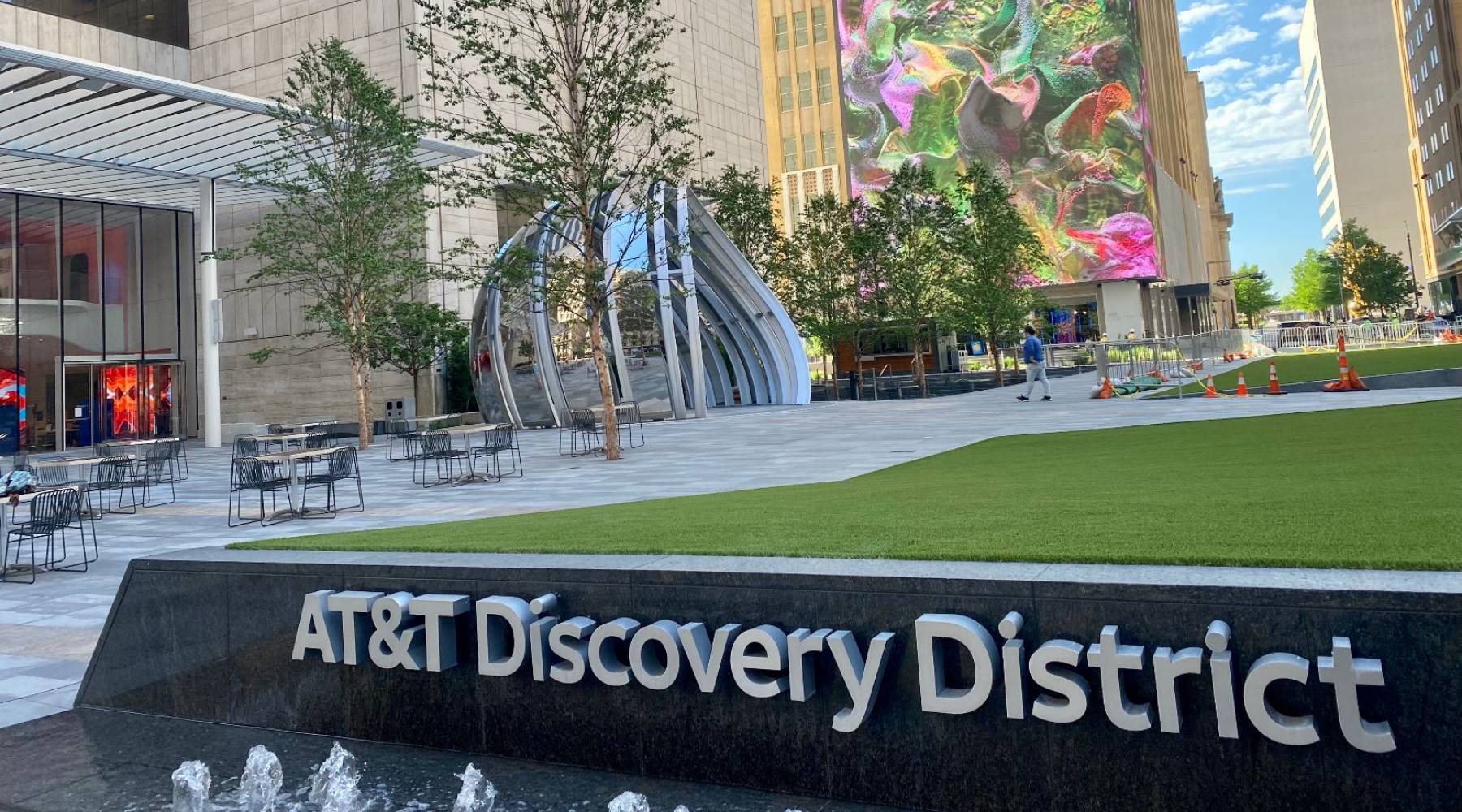 We are the first and only artificial grass company to offer a collection of products certified by the USDA for using bio-based contents in our turf. Furthermore, our turf is manufactured with an exclusive EnviroLoc backing which acts as an anchor for turf fibers and extends the lifespan of your turf installation. When you choose SYNLawn artificial turf in The Colony, TX, you can say goodbye to maintenance, muddy shoe and paws, and time and money consuming maintenance requirements.
SYNLawn Dallas artificial turf has been the perfect choice for commercial landscapes such as The Lawn at Grandscape in The Colony, TX for several reasons. The substantial cost savings created by the removal of lawn equipment and regular maintenance requirements such as regular watering and reseeding as well innovative features only found in SYNLawn turf. Our artificial grass installers in The Colony, TX specialize in a range of applications including residential landscapes, backyard putting greens, playgrounds, commercial lawns, rooftop lawns and more.
Additional features and benefits of a SYNLawn synthetic grass installation in The Colony, TX:
Super Yarn technology provides antimicrobial components by Sanitized® for cleanliness and
StatBlock for the reduction of static accumulation
DualChill technology prevents fading and supports the long-term integrity of turf surfaces
HeatBlock technology keeps our surfaces up to 20% cooler than any competing brand
High durability in heavy foot traffic areas and rough weather conditions
Delustered finish to provide a rich and natural appearance
Increases living spaces by utilizing and enhancing unused areas
Kid and pet-friendly landscape solutions for playgrounds, play areas, and dog runs
Promotes environmental friendliness, water conservation, and carbon footprint reduction
Made in the USA with recyclable, plant-based materials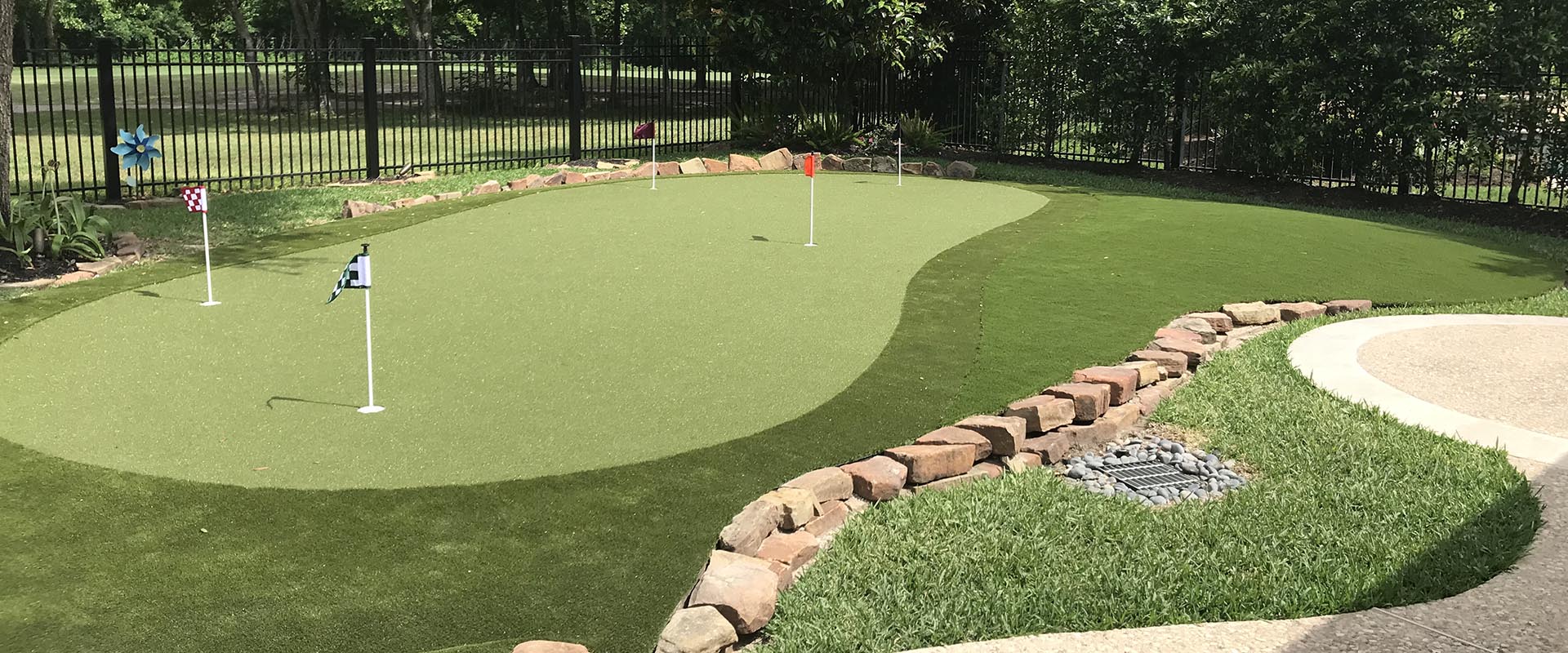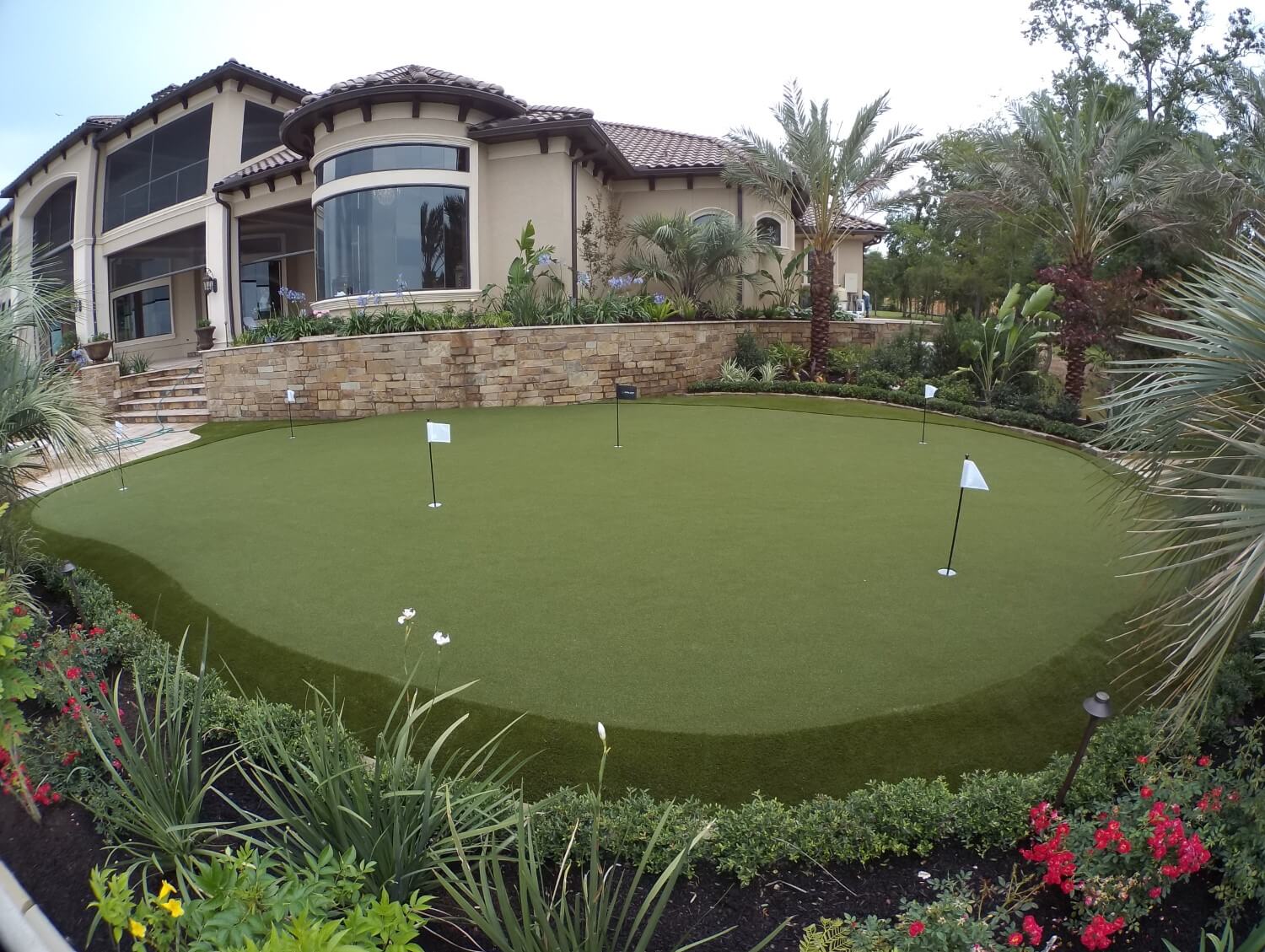 Custom Backyard Putting Greens – The Colony, TX
SYNLawn Dallas golf greens are designed to provide the most authentic performance in any space, allowing for full customization with the option to add tee boxes, fringe, fairway, and rough surfaces, LED cup lights and more. In order to create high performance golf greens in The Colony, TX with the same putting performance, quality, and durability found on pro courses, we partnered with expert level golf coach Dave Pelz. This partnership allowed for the creation of the most natural looking and performing artificial putting greens in the market. Since the vast majority of shots are lost to par in the short game, we wanted to provide golfers of every skill level with a backyard green that truly helps improve short game performance. Not only can you enjoy a vibrant landscape feature that increases property value, but you can provide your family or customers with a fun and entertaining amenity that will last for years to come.
Pet Turf Installers in The Colony, TX
SYNLawn pet turf in The Colony is the cleanest, safest, and most durable artificial grass for your pets. One characteristic found in our pet-friendly artificial grass is the highly effective Sanitized® antimicrobial which helps prevent stains and odors caused by the buildup of bacteria and mold. This unique property in combination with our enhanced drainage ensures that pet urine doesn't pool on the surface which is what causes yellow patches in real grass and stains on other turf brands. We also add an odor-controlling infill from Envirofill® which significantly reduces bacteria and odors caused by pet waste. This infill helps keep surfaces sanitary and does not interfere with our superior drainage. To enjoy a beautiful, low-maintenance lawn all year long, prevent holes from being dug, and muddy paws, customers continue to choose SYNLawn for their pet turf installation in The Colony, TX.
Safer Playgrounds in The Colony, Thanks to SYNLawn!
At SYNLawn Texas, we are devoted to providing children in The Colony, TX with the safest playgrounds possible. SYNLawn playground turf is engineered to provide school playgrounds and municipal parks with more resilient and longer lasting playground surfaces to ensure long term safety at every installation. Our playground systems ensure that your landscape meets strict safety standards, provides a clean environment for your kids to play, provides exceptional durability and performance and more.
SYNLawn playground turf in The Colony, TX:
IPEMA, ADA, and CSA compliant
Tried and tested onsite to ensure superior performance and safety
Provides protection from falls of up to 10 feet
Option to add shock absorption cushioning beneath the turf
Option to add TrampleZones™ under high friction spaces such as swing sets and slide exits for greater durability and easy replacement
Cooler and fade-resistant surfaces thanks to
HeatBlock and DualChill IR reflective technology
Sanitized® antimicrobial technology eliminates up to 99% of all bacteria from the surface
Roof, Deck, and Patio Turf
Roofs, decks, and patio spaces are often disregarded and become unused space. With a comfortable place to relax, SYNLawn Texas artificial grass will help you make better use of your space and reinvent your outdoor activities. As a result of our UV-stabilized fibers and exclusive DualChill IR reflective technology, SYNLawn artificial grass has increased strength and fade resistance. This means that your grass will always look wonderful, regardless of how much sunshine is exposed to your landscape. In addition, our collection of rooftop turf options feature some of the only ASTM E108 Class A fire rated synthetic grass on the market. This hard-to-earn rating is earned when products are tried and tested to stop and prevent the spread of fires.
Artificial Living Walls from VistaFolia® in The Colony
Built from ultra-realistic synthetic greenery, VistaFolia plant walls are made to customize your interior and exterior designs with lush foliage, without the need for irrigation systems or maintenance. The artificial foliage and colored blossoms found within our synthetic green walls were designed to replicate both the natural appearance and movements of real plants. Not only do they help cover unused walls and unappealing views, but they aid in noise reduction and privacy enhancement.
VistaFolia synthetic green walls offer a variety of advantages such as:
Low maintenance - no watering or trimming
Made with natural color pigments that are resistant to UV light to prevent fading
Ultra-realistic artificial plants that allow air flow to replicate natural movements
Engineered to endure the harshest weather conditions
Seamless panel integration ensures realism
ISO 9001 manufacturing standards
Fire tested and certified
Schedule a Free Consultation Today!
For more than 50 Years, SYNLawn has dedicated its experience to researching and developing artificial grass that offers the most advanced technologies, eco-friendly materials, and high safety standards. We are fully licensed, insured, and committed towards providing superior customer service and precision artificial grass installation in The Colony, TX. For more information on our plant based artificial grass products and turf installation services, contact SYNLawn Texas today to schedule a free consultation!
Please fill out all mandatory fields with an astrerisk *
Your information will be held confidential with our company.