Indoor Putting Greens in Dallas, TX
SYNLawns Texas is dedicated to providing the best and most durable indoor putting greens in Dallas, TX. If you're a golf enthusiast, you undoubtedly understand the importance of practicing to enhance your skills. That explains why membership at local golf courses is at an all-time high. But suppose you had your very own indoor golfing green where you could practice and play at any time of day or night? That would be a welcome proposition for many Dallas golfers.
SYNLawn Texas can make your dreams come true with our signature indoor putting greens.
At SYNLawn Texas, we are serious about quality and excellence. Whether it's mini-golf courses or artificial indoor golf putting greens, our turf is highly rated. We incorporate sanitized antimicrobial technology, Dualchill IR Reflective technology, and StatBlock anti-static components on our synthetic turf products. These plant-based and FDA-approved materials are not only highly durable they are also environmentally friendly.
Why Choose Our Indoor Putting Greens
As mentioned earlier, our artificial turf is constructed using highly resilient materials. This guarantees the turf will endure extended use and still retain its breathtaking luster and visual appeal. If you want to practice in a turf environment that is visually stunning yet highly resilient, SYNLawn Texas' artificial indoor putting greens products are your obvious solution. We are so confident of the dependable quality of our products that we offer a limited lifetime warranty.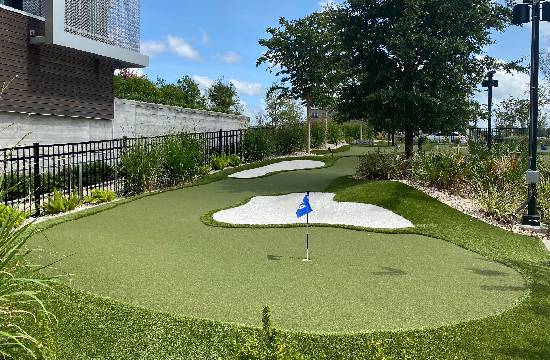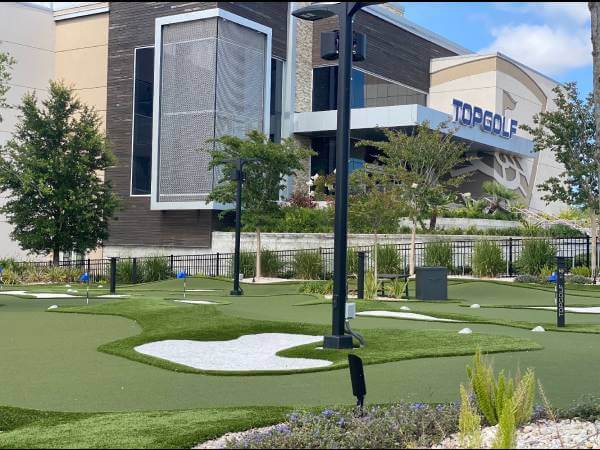 One obvious drawback of outdoor putting greens is they are susceptible to bad weather. Rain, snow, scorching heat, and even nightfall can make it impossible to enjoy your favorite pastime. This explains why there is a demand for indoor putting greens. You never have to worry about inclement weather and can play to your heart's content without any regard to any changes taking place outdoors.
Low Cost and Low Maintenance
It is commonly understood that maintenance for natural grass lawns is a costly and time-consuming undertaking. Owners have to deal with continuous lawn mowing, watering, purchase of fertilizers and other chemicals and water sprinklers.
In many places, since local housing associations require lawn maintenance, maintaining your lawn in immaculate condition is not an option. And because golfing turfs are more demanding than regular lawns, maintenance costs can be even higher. This is not the case with indoor putting greens. While an initial investment is required for installation, the turf does not need to be watered or trimmed. No chemicals are necessary either. This makes synthetic indoor putting greens a better investment over time than natural lawns.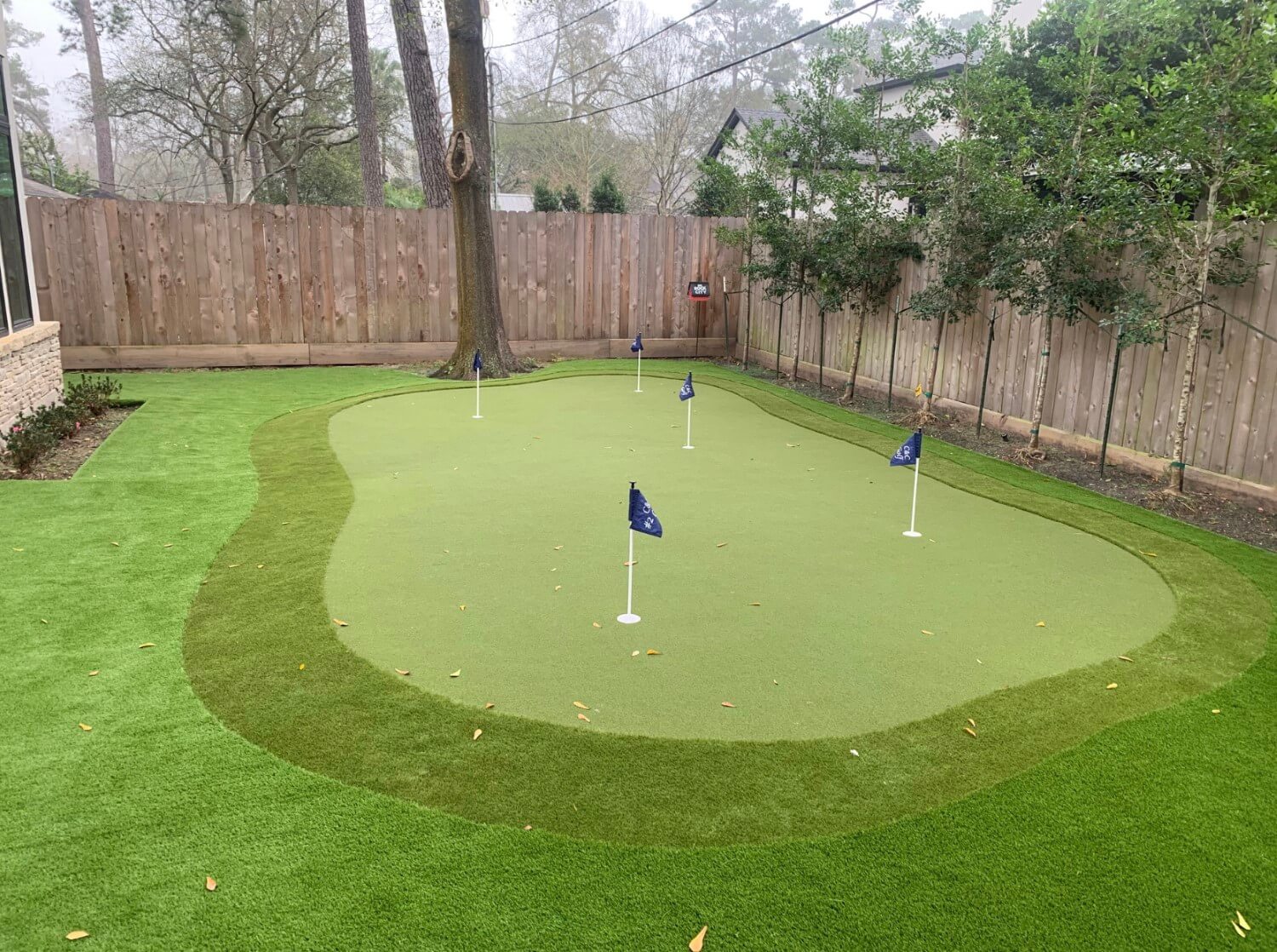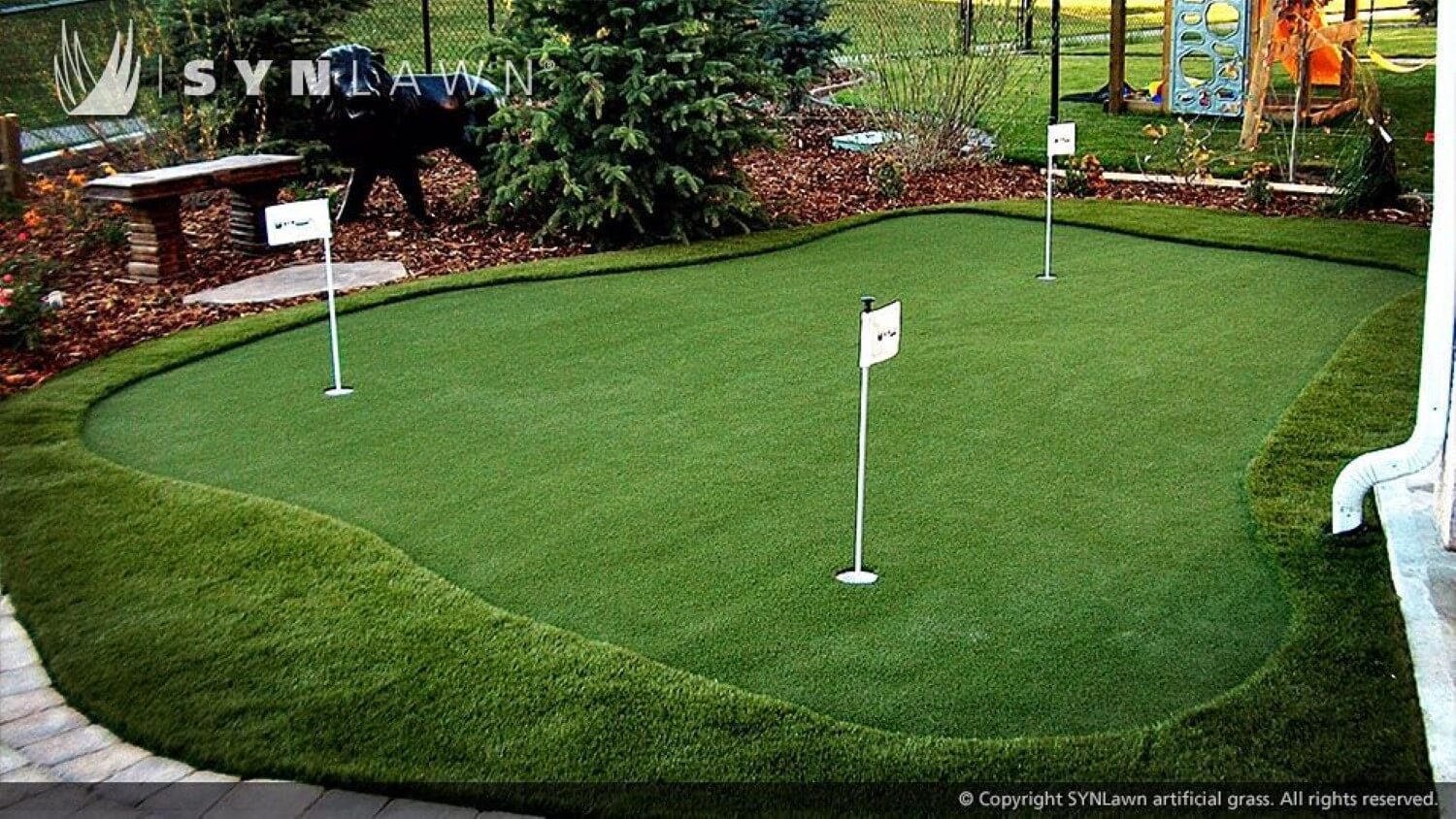 Golf, by its very nature, demands impeccable turf. This means natural golf turf owners must invest significant resources in lawn care to ensure the turf fulfills the PGA's stringent requirements. In addition to expensive lawn equipment, natural golf turf operators must also pay for ongoing landscaping contracts, water sprinklers, astronomical water bills, chemicals, and even seeds. This is not the case with artificial indoor putting greens. The turf does not require any ongoing landscaping contracts, escalating water costs, or chemical additives.
Whether you're upgrading an existing indoor turf or installing a new one for the first time, our expert designers and installation crew have everything you need to ensure the success of your indoor putting green golf course. View our product catalog or contact our team of experts to determine the most suitable product for your home or business.
If you're looking to install artificial indoor putting greens in Dallas, TX, SYNLawn Texas can provide you with the best solution available. Our skilled staff can assist you by conducting an assessment to determine your specific needs. Contact us today to schedule an appointment.
Please fill out all mandatory fields with an astrerisk *
Your information will be held confidential with our company.