Flower Mound, TX, Artificial Turf Installation
SYNLawn Texas provides highly realistic artificial grass lawns, landscapes, and putting greens in Flower Mound, TX. Our synthetic grass is designed for the installation of both residential and commercial applications and eliminates the need for traditional grass maintenance. We pride ourselves on our ability to manufacture sustainable synthetic grass with plant-based materials and save our customers substantial amounts of time and money.
Our SYNLawn Texas artificial turf is designed to last for many, many years with minimal upkeep. This is because we utilize high-quality materials and UV-stabilized yarns that offer superior durability and exceptional fade resistance. We manufacture all of our products at our ISO 9001-certified facility in Dalton, GA. Here, we can quality control our manufacturing process every step of the way to ensure consistency for all our customers.
In addition, with the help of American farmers, we locally source the sugar cane, soybean oil, and other eco-friendly materials that can be found in our SYNLawn turf, which help eliminate large amounts of petroleum from their overall design. This makes our artificial turf a much more sustainable surfacing solution!
The Benefits of Flower Mound, TX Artificial Turf for Commercial Installation
At SYNLawn Texas, our synthetic turf includes 50 years' worth of innovation and exclusive technologies. Our commercial customers understand the importance of a well-kept landscape. Unfortunately, they typically do not have the time to take away from their product and service development to dedicate to landscaping needs.
Fortunately, for businesses in Flower Mound, TX, our commercial artificial grass offers a level of elegance, realism, performance, and reliability not found anywhere else on the market. As a result, commercial landscape owners can save time and money on lawn maintenance by switching to our synthetic turf products.
Exclusive technologies and benefits found in our artificial turf solutions for Flower Mound, TX include:
Super Yarn™ technology
EnviroLoc+™ backing system
Super Drain+™ technology
HeatBlock™ technology
OmegaBlade™ technology
IPEMA certification
Class A fire-rated
Made in the USA
Fully licensed, insured, and bonded to work on multi-million-dollar projects
Backed by an unmatched warranty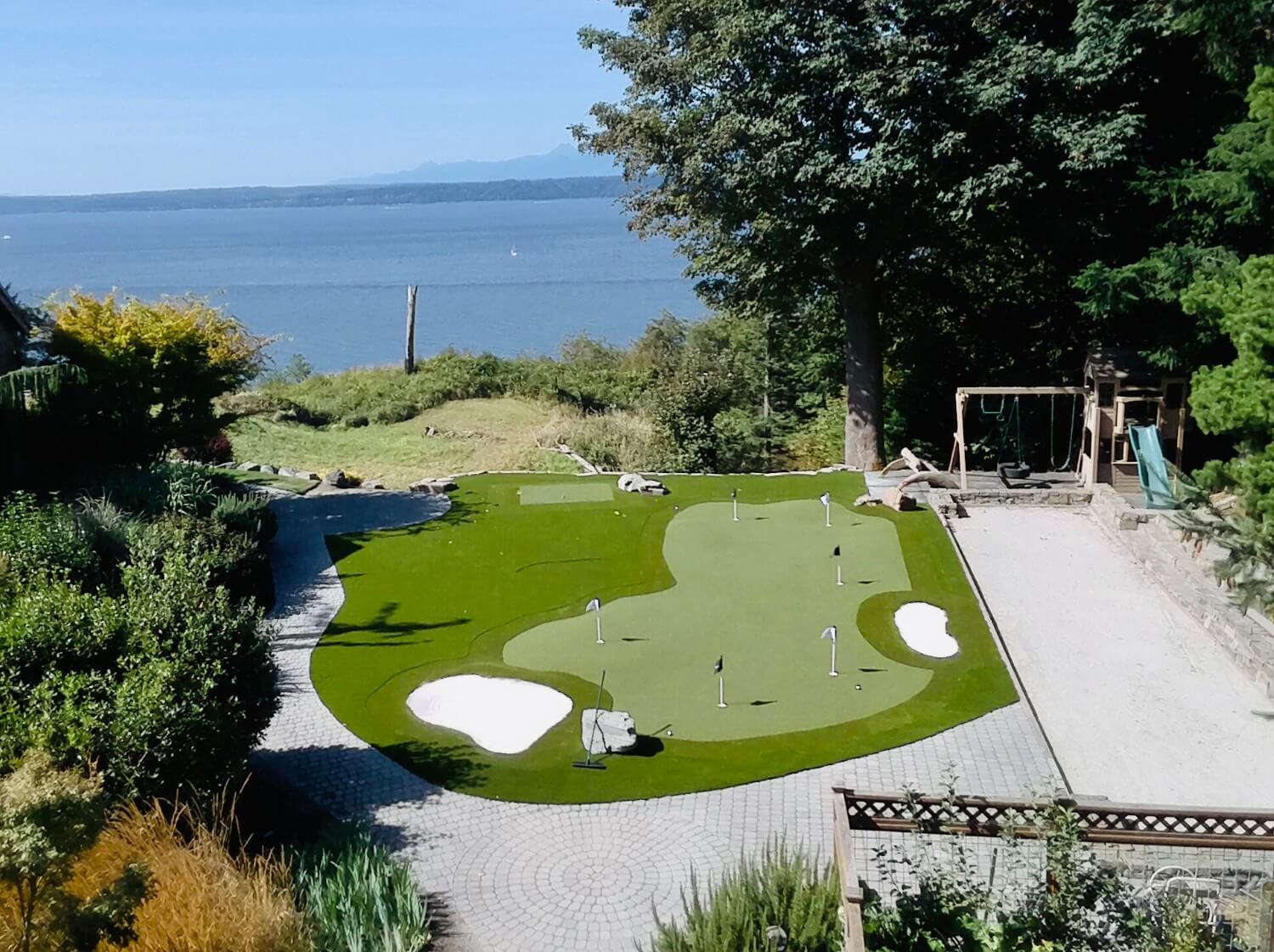 Flower Mound, TX Golf Turf and Putting Greens
Do you dream of bringing your love for golf home? Thankfully, SYNLawn Texas offers artificial putting greens that meet PGA-caliber standards and perform like the professional courses you know and love. Engineered with the help of a golf coach and ex-NASA physicist, Dave Pelz, our artificial golf greens replicate traditional grass as closely as possible. As such, our synthetic golf turf offers a realistic putt, true ball roll, and natural slow-down characteristics, so you can improve your overall golf performance.
Features of our putting greens include:
Can only be installed by our GreenMaster™ certified installers
Extremely durable surface to chip on
No water can settle beneath the putting green turf and wash the base out
Effective drains in each cup prevent backfill of water and mold
Ability to install LED cup lights for personal flair
Add sand traps, tee lines, tee boxes, slopes, obstacles, and more
Backed by a lifetime warranty
Monthly financing available
Safer Flower Mound, TX, Playground Turf Systems
Playgrounds are designed with the intention of having fun. They provide a space for little ones to play with their friends and explore their imaginations. At SYNLawn Texas, we recognize that while the fun must go on, safety must be the top priority. As a result, we have laboratory tested our artificial playground grass to meet commercial safety standards that make us eligible to receive IPEMA certification. In doing so, we can help protect those who use our turf systems from common injuries and falls up to 10 feet.
At SYNLawn Texas, our Flower Mound playground turf is resistant to heavy foot traffic, resists wear and tear, and requires little to no maintenance. In addition, we offer TrampleZones® that can be added underneath swing sets, jungle gyms, and slides for increased safety. These pads are designed to be easily replaced if worn out.
Flower Mound, TX Pet-Friendly Turf
At SYNLawn Texas, we understand how important it is for pet owners to provide their companions with the best life possible. For this reason, we developed our artificial dog and pet turf specifically for them. It eliminates mud, helps keep away fleas and ticks, and is incredibly durable for playtime. Other features include the following:
Coated with Sanitized® antimicrobial that eliminates up to 99% of bacteria
Stain and odor resistant
Made from plant-based and recyclable materials
Hypoallergenic
Incredibly durable turf fibers and backing system
Unmatched drainage capabilities
Contact Our Team Today for More Information!
At SYNLawn Texas, our team provides exceptional artificial grass products in Flower Mound, TX. For several years, we have helped take the artificial turf industry to new heights. As a leader in our industry, we recognize our responsibility to provide cutting-edge grass alternatives that are versatile and environmentally sustainable. We work closely with industry professionals and with our customers so that we can provide safer, greener, and more durable synthetic turf.
For more information about our Flower Mound artificial grass, contact us today to schedule your free consultation!
Please fill out all mandatory fields with an astrerisk *
Your information will be held confidential with our company.