Fort Worth, TX Artificial Grass Installation
Fort Worth artificial grass installation is becoming the number-one choice for landscape installation. Artificial turf cost alone outweighs the cost of year-long maintenance to preserve your grass to achieve the appearance you desire. Fortunately, SYNLawn provides the highest quality, low-maintenance artificial grass Fort Worth has to offer. We are the experts that provide luxury lawns.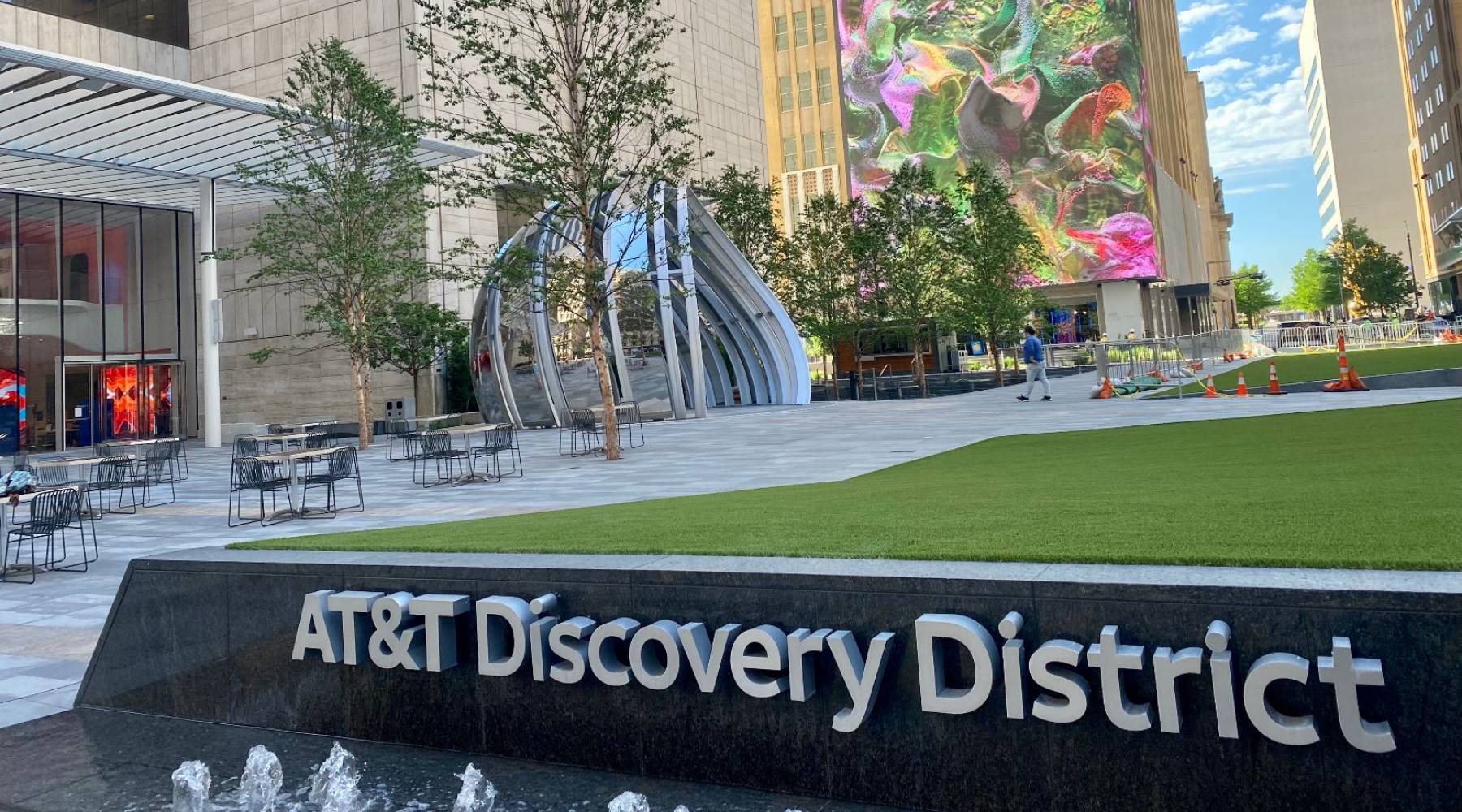 SYNLawn synthetic grass is manufactured with recyclable, eco-friendly materials that help conserve thousands of gallons of water significantly reduce carbon emissions, and reduce the impact that we have on landfills. This is made possible with the help of soy farmers here in the US. We work closely with them to manufacture our turf in-house and as a result, SYNLawn is the first company to offer USDA-certified Forth Worth synthetic grass.
What sets us apart from other manufacturers aside from our dedication to environmental sustainability is our attention to detail and exclusive innovations. SYNLawn provides the most meticulous installations to ensure that your project is completed right the first time and portrays the natural appearance and behaviors of real grass as closely as possible. This is why we ensure that each panel of our artificial turf is installed in the same direction, a detail commonly overlooked, the surface we use to install is smooth and free of debris, and your installation effortlessly blends into the existing features of your landscape. Combined with our first-of-its-kind Super Yarn technology and EnviroLoc+ backing system, your landscape will be designed to last for decades.
Commercial Installation of Fort Worth Artificial Turf
Commercial properties understand that time is money. With that being said they typically do not have the time to spend on watering and mowing their landscape. Unfortunately, for many customers, the way that your front landscape presents itself can make or break whether or not they do business or continue business with you. For this reason, they choose SYNLawn. We provide superior durability and resistance to heavy foot traffic and weather. So whether your installation is for indoor or outdoor use, it will not suffer from heavy foot traffic or unpredictable weather.
For architects, SYNLawn synthetic grass provides many additional benefits. Thanks to our eco-friendly products, architects and landscape architects can earn LEED credits toward their continued education. In addition, we offer our CAD details, available on our website, so that you can easily incorporate our synthetic turf into the design phase of your next project. Finally, we can send you our brand-new architectural tool kit directly to your office complete with turf and infill samples and many other items that will give you a hands-on first experience with SYNLawn artificial turf.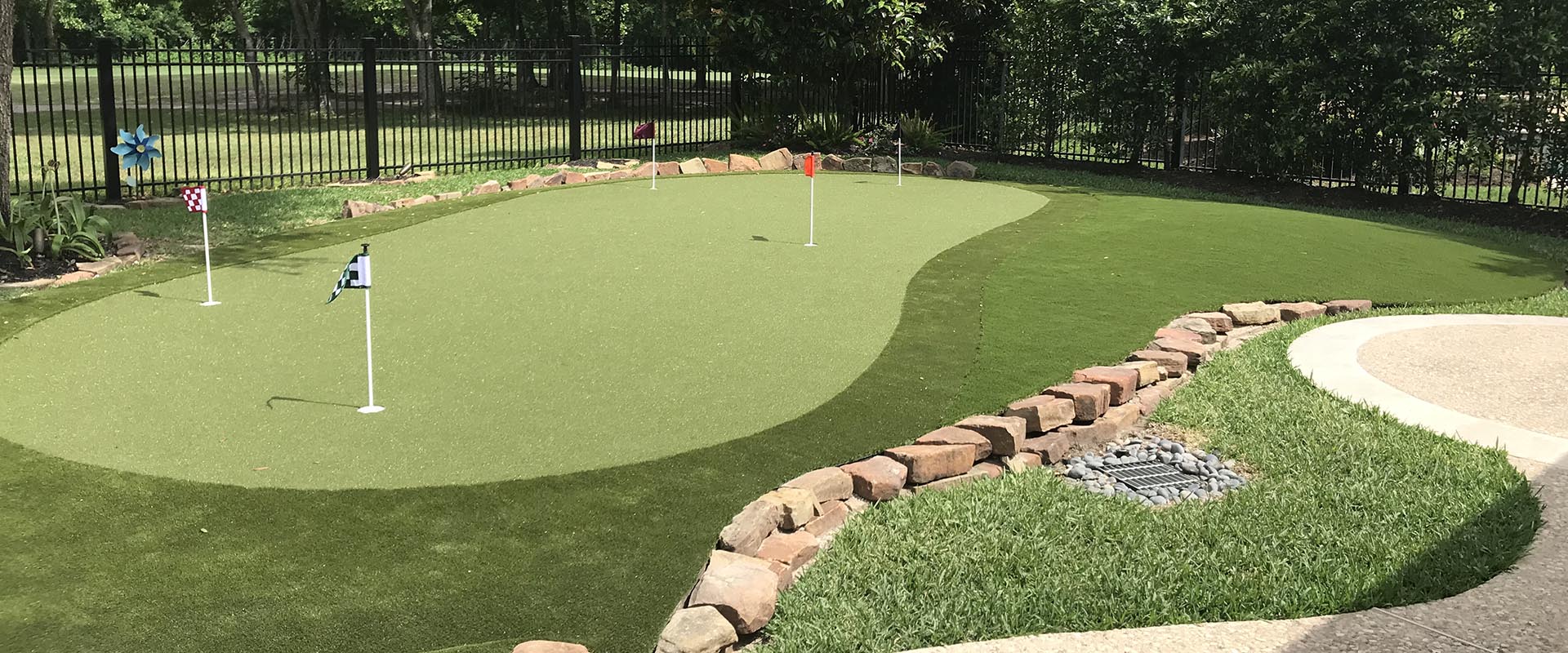 SYNLawn® Putting Green Turf
Are you looking for a new Fort Worth putting green? Why not build your very own in the comfort of your own backyard? SYNLawn teamed up with ex-NASA engineer and professional golf coach Dave Pelz to manufacture the highest quality PGA-caliber golf greens available on the market. With his help, we've combined our synthetic turf's eco-friendly and low-maintenance benefits with the professional performance and durability you've come to expect from your favorite courses.
One-inch thick practice surfaces that allow you to use an authentic golf tee
Professionally installed T-Strike lets you make a complete swing without grabbing the club head
Effective drains in each cup prevent backfill of water and mold
Engineered by an ex-NASA engineer to imitate natural grass as closely as possible
Improve your performance and reduce your scores in the short game
Select from different turf options for your fairway, fringe, collar, and more
Customizable with obstacles to increasing the challenge
Only SYNLawn GreenMaster® certified technicians can install our golf greens
Fort Worth Fake Grass for Dogs
If you have dogs or pets that spend time in the backyard or at the dog park, you want them to play on a surface that is safe and clean. That is why SYNLawn designed pet grass specifically for them. No more muddy paws, fleas, ticks, or unwanted pests in your yard.
Stain & Odor Resistance
No more muddy paws or muddy yard
Significantly cooler surface temperatures on hot summer days
Protection from diseases, fleas, ticks, and other pests
Extremely resilient grass fibers that maintain grass realism
Optimal drainage allows for use right after it rains
Locked-in turf fibers that prevent pets from tearing through it
Envirofill Antimicrobial: Prevents odors from pet waste & bacteria
The Safest Playground Turf Systems in Fort Worth, TX
At SYNLawn we recognize that nothing is more important than safety. SYNLawn playground grass is independently tested to cushion falls up to 10 feet, and protect against common injuries that occur during playtime or athletic training. Accidents happen and as a leader of the artificial grass industry, we were the first to realize that there was a need to implement IPEMA and ADA-compliant turf options.
Hypo-allergenic
Non-abrasive, soft, synthetic grass top layer
Sanitized® antimicrobial eliminates 99% of bacteria reducing the risk of infections
StatBlock™ carbon-based anti-static component that reduces static buildup and shock
HeatBlock™ cools grass by reflecting sunlight and reducing heat buildup, resulting in a significant temperature drop of up to 20%
Fall Pad® subbase cushioning technology
ASTM tested to meet HIC (Head Injury Criteria) requirements
Schedule a Free Consultation Today!
SYNLawn works closely with landscape architects, architects, contractors, construction companies, and more to provide the safest, cleanest, and greenest environments. With more than 50 years of research and development, a growing list of exclusive features and benefits, and professional installations there is no better place to find artificial grass near me. To learn more about Fort Worth artificial grass and all of our services, contact SYNLawn today to schedule a FREE consultation!
Please fill out all mandatory fields with an astrerisk *
Your information will be held confidential with our company.